Affiliations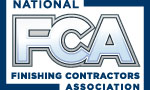 The association is party to an affiliation agreement with the Finishing Contractors Association (FCA) located in Oakbrook Terrace, Illinois. The Finishing Contractors Association is an international trade association representing union contractors engaged in painting, glass, glazing, dry wall finishing, and floor covering. All contractor members of the New Jersey Glass and Metal Contractors Association are affiliate members of the
FCA
.

Through the affiliation with the FCA, our association is also a member of the
U.S. Green Building Council
, USGBC.

The association also has an alliance agreement with the US Department of Labor Occupational Safety and Health Administration (OSHA) Hasbrouck Heights, Avenel, Parsippany, and Marlton area offices. A PDF copy of the agreement alliance currently in force is available above. Further information about can be found at
www.OSHA.gov
.
GlassCon Global 2015 was the first event of it's kind in North America to join together leading experts from around the world in the rapidly evolving architectural glass and glazing industry in expanding the application and use of glass in interior and exterior construction. GlassCon Global 2016 will create a forum for presenting new technologies and products. It will provide educational workshops designed to inform architects, engineers, specification writers, owners, developers and leaders in the construction industry. The association is a supporter of the GlassCon Global event and its goals to drive glass innovation and promote the glazing industry.